Batman vs Superman: Dawn of Justice was a waste of time, right? You are correct, because if you watch Justice League then you will feel literally crabby and feel like venting your frustrations out on Zack Snyder. The movie had a weak plot and it was really off.
Points:
Batman is a homicidal maniac played by an old man named Ben Affleck.
Why did Diana Prince awaken after the second world war into the 21st century to actually save the world?
Barry Allen's a goof in the movie! Yuck!
Jason Momoa as Aquaman?! Is Zack Snyder out of his mind?! Armie Hammer or Scott Speedman should have been Aquaman!
A weak plot and a weak story line. So much fictitious mumbo jumbo out of the blue without any proper meaning and who in the heck is Steppenwolf?!
Where did the Aliens come from? Did Zack Snyder even watch the DC cartoons?
Jason Momoa used a redneck accent !! For God's sake, someone tell him that Arthur Curry comes from a long line of Royals!!!!
The DC guys only created a hype of the movie through marketing and the same marketing hype was displayed before the launch of Batman vs Superman: Dawn of Justice. It flopped and so did the Justice League! They both flopped!
So, does Marvel fare better? Yes!
Marvel Cinematic Universe officially started with Blade way back in 1998. It became better with launches of 2 more parts of Blade and The Hulk's first part containing Eric Bana. Christopher Nolan came up with dark versions of Batman with Christian Bale, featuring Liam Neeson, Heath Ledger, Javier Bardem and Aaron Eckhart as villains. Gary Oldman did a very good role of commissioner Gordon but George Clooney flopped in Batman and Robin. Val Kilmer is the true Batman of the 90's and so is Michael Keaton.
But, it all began in 2008 with Iron Man: Robert Downey Jr. being the Hero and Title Character, Jeff Bridges being the true villain with Gwyneth Paltrow and Terrence Howard providing the best support roles ever. Ramin Djawadi's music for the movie was Oscar nominated and the movie grossed loads of money!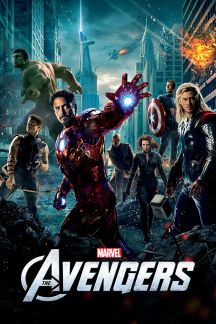 Iron Man was directed by John Favreau, written by Mark Fergus, Hawk Ostby, Arthur Marcum and Matt Holloway, and produced by Avi Arad and Kevin Feige. The budget of an estimated USD$ 140,000,000 brought in a gross profit of USD$ 318,412,101 in the U.S.A for October 2008 and the Global Profit for same month of USD$ 585,174,222. That's quite a lot for a movie at that time. Iron Man 2 was directed by Jon Favreau and written by Justin Theroux (Yes!), released on May 7, 2010 and how much did it gross? USD$ 623.9 million! The Incredible Hulk grossed a modest USD$ 263.4 million whereas Thor grabbed USD$ 449.3 million against a budget of just USD$ 150 million (Kenneth Branagh's a miracle mind behind it!) and Captain America: First Avenger drew a profit of USD$ 370.6 million against a 160 Million Dollars budget. Yes, for the years 2010 and onwards; these movies drew loads of bucks! Joss Whedon was the man for Marvel's the Avengers (Director, Writer, Producer) and the profit: USD$ 1.519 billion! against a budget of USD$ 220 Million!
Staggering, Right? Yes it is!
Then comes phase two:
Iron Man 3 was directed by Shane Black, written by Drew Pearce and Shane Black, gross budget was of USD$ 200 million whereas the profit was of USD$ 1.215 billion. Despite wearing a touch of drama, the movie had to be like that because 'it was the man that made the suit.' That's right, the suit never made the man but it was the man that made the suit. Thor: The Dark World had a gross budget of USD$ 170 million and a profit of USD$ 644.6 million, directed by Alan Taylor and written by Christopher Yost, Christopher Markus and Stephen McFeely. Captain America: The Winter Soldier, directed by Anthony and Joe Russo, written by Christopher Markus and Stephen McFeely had a budget of USD$ 177 Million and a profit of USD$ 714.3 Million.
James Gunn wrote and directed Guardians of the Galaxy in collaboration with Nicole Perlman, Chris Pratt, Zoe Saldana, Dave Bautista, Bradley Cooper, Vin Diesel and GLenn Close among the cast members,a gross budget of USD$ 223.3 million reaping a profit of USD$ 773.3 Million. Yes! Its True!
Joss Whedon again was the force behind Avengers: Age of Ultron and the budget was of USD$ 316 Million (Gross) reaping a profit of USD$ 1.405 Billion.
Ant-Man topped the icing of the cake with a budget of USD$ 142 Million and a profit of USD$ 519.3 Million, directed by Peyton Reed and written by Edgar Wright, Joe Cornish, Adam McKay and lead actor Paul Rudd. Cast: Paul Rudd, Michael Douglas, Corey Stall and Evangeline Lilly.
Yeah, Marvel rocks for sure!
Phase 3 of the Marvel Cinematic Universe:
Anthony and Joe Russo directed Captain America Civil War, budget of USD$ 250 Million and a profit of USD$ 1.153 Billion! No Wonder Batman vs Superman was the Yawn of Justice and a big flop.
Scott Derrickson directed Dr. Strange, Benedict Cumberbatch as the Hero, Budget of USD$ 165 Million and a Profit of USD$ 677.7 Million. Killer profit!
And the dimensional shifts in the movie freaked me out. But yet again, pretty cool stuff.
Guardians of the Galaxy 2 had a budget of USD$ 200 Million with a profit of USD$ 863.6 Million. THe one man army behind it is James Gunn!
Spiderman Homecoming: Budget of USD$ 175 Million and a Profit of USD$ 880.2 Million!
Thor Ragnarok: Budget = USD$ 180 Million and a Profit of USD$ 844 Million.
Comedy, Action, Drama, Romance and All; The years 2016 and 2017 drew maximum profits for the Marvel Cinematic Universe.
What is the secret of Marvel's success?
The directors, producers and writers have been revolved, they have been studying the comics, story lines and series as well as the characters for years before they could conceive a well balanced idea and when conceived; released as a well balance movie with budgets producing great profits.
Chris Hemsworth, Scarlett Johansson, Robert Downey Jr., Chris Evans, Paul Rudd, Elizabeth Olsen, Paul Bettany, Chadwick Aaron Boseman, Chris Pratt, Zoe Saldana, Anthony Mackie, Don Cheadle, Emily VanCamp, Vin Diesel, Bradley Cooper, Jon Favreau, Tom Holland, John Kani, Jeff Bridges, Michael Keaton, Josh Brolin among a host of so many others. They have helped illuminate Hollywood and the Marvel Cinematic Universe. They have helped boost entertainment to new heights and have overpowered DC successfully.
The credit goes to the writers, producers and directors for studying the cartoons, characters and comics for years. Balancing the plots and choosing the right cast brought out the best in everyone coupled with a lot of public relations campaigns and hospital visits have boosted Marvel's brand value to exceedingly sky like heights. Whats even more heartening that its not stopping! and is further gonna take even higher ground.
The careers of the aforementioned actors have taken off and are skyrocketing as well. They have now reached a respectable peak and have thus attained a legendary status. Things are for the better with Marvel and I say Marvel all the way!
What's next? Black Panther of course!
Badass!
The weak storylines of Zack Snyder's movies have cast a shadow of doubt over DC as well as Actor's placement and selection. Weak storylines aren't drawing interest in DC and Justice League was an evident flop. Yes, it was an evident flop!
Hence, Marvel wins!